Beach Colony Tower 12C
A Perdido Realty Vacations Premier Property
For those who expect only the best, Beach Colony Tower 12C is included in our collection of outstanding luxury vacation properties and is guaranteed to please the most discerning guest. Some rentals feel right when you enter, and this is one of them. This 12th-floor impeccably decorated condo is spacious, luxurious, and comfortable.

Exclusive Beach Colony is located on 11 acres of fabulous beachfront. The ingenious angular living room design transforms every residence into a Corner unit. Wall-to-wall sliding doors and adjoining windows actually wrap around the living room, filling it with light and revealing the panoramic beauty of the Gulf. The sweeping 300 SF terrace will be a favorite spot for quiet moments and lively gatherings alike. The uniquely situated Master Bath is a world unto itself. 1683 SF with custom tile throughout Living, Dining, Kitchen, and Bedrooms.

A NOTE FROM THE OWNER:  Welcome to our home, Perdido-Soul. Here you will find warmth in the sun, revitalizing your soul. Perdido Key is known for its sugar white sand beaches, emerald green waters, a beautiful small town atmosphere, yet close to the historic city of Pensacola, and vibrant activities in Orange Beach. Our 12th-floor home features an interior completely redecorated in Spring 2016. A casually furnished living room has two recliners, a 60 flat-screen TV, and Blue Ray Player with an extended cable package. The dining room includes a rustic dining table that seats 8. Our kitchen consists of all-new cookware and tableware, stainless appliances, a quartz countertop, and Keurig Coffeemaker. Bedrooms have all new beds with high-quality mattresses, including 40-in and 32-in flat-screen TVs. The master suite has a completely remodeled bath with granite countertops, double vessel sinks, and a deep soaking tub that overlooks the gulf. Be sure to use our coffee table guest book for information on our favorite restaurants and attractions. Please leave a note--we want to know that you enjoyed our home. 
Beds: Master - King, Guest - King, Guest - 2 Sets of  Oversized Twin Bunk Beds
Modern, Fully-Equipped Kitchen with a Keurig
Separate Shower and Tub with Gulf View in Master Bath
In-Unit Laundry Room
Bed Linens-Bath Towels Provided
Wireless Internet
Non-Smokin,g including Balcony areas
No Pets
Movie Library/ Game Library
Electronics include a 60" TV in Living Room, a 40" TV in Master Bedroom, and a 32" TV in 2 guest rooms.  
Group Accommodation Options
Book both Beach Colony Tower 12C and Beach Colony Tower 12D to enjoy exclusive use of these side-by-side neighboring condos. When booked for the exact dates of stay, these premier Beach Colony condos offer ample group vacation rental accommodations for up to 16 people with six bedrooms, six bathrooms, two well-appointed kitchens, and plenty of access to all the amenities throughout the Beach Colony Resort. Enjoy space AND privacy for your large group by booking these vacation properties today!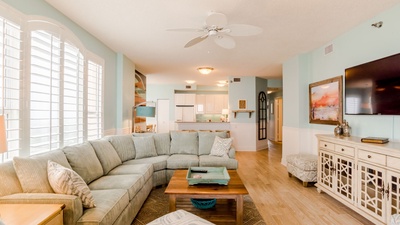 View Property: Beach Colony Tower 12D
Amenities
Gulf Front
Two Outdoor Pools
Heated Indoor Pool and Hot Tub
Tennis Courts
Fitness Center
Grilling Areas
Gated Community
Password-Protected Elevators - Two per building
Four residences per floor with semi-private entrance
Two Parking Passes
Essentials
Air Conditioning
Cable
Dryer
Private Entrance
Washer
Desk
Bed Linens
Living Room
Parking
Towels
Hair Dryer
Hangers
Heating
Hot Water
Iron & Ironing Board
Kitchen
Wifi
Facility
BBQ Area
Gym/Fitness Room
Pool
Balcony
Grill
Tennis Court
Gated Community
Two Parking Passes
Location
Beachfront
Oceanfront Balcony
Kitchen
Area
Dining Table
Dishes & Silverware
Dishwasher
Microwave
Oven
Refrigerator
Toaster
Stove
Pots and Pans
Blender
Keurig Coffee Maker
Pool
Community Pool
Heated Pool
Hot Tub
Indoor Pool
Home Safety
Fire Extinguisher
Smoke Detector
Thank you for submitting your review. It will be processed shortly!
September 21, 2022 - Website
September 9, 2021 - Website
We absolutely loved the condo!
Beach Colony 12C was awesome!! We loved everything about our stay here-very comfortable and views couldn't be beat! Condo was decorated and stocked very well. Would definitely recommend and hope to come back again.
October 11, 2018 - Website
Beach Colony is our favorite! We love it there!!
September 24, 2018 - Website
We loved the condo and the amenities and will return in the future!
September 24, 2018 - Website
Our unit was on the 12th floor and had a beautiful view. It was very clean and also had the things necessary for us to clean the floors since we had a little sand that made it up to the unit. Our kitchen had everything that we needed. We loved it an would stay there again.
August 15, 2017 - Website
March 2023
S
M
T
W
T
F
S
01
02
03
04
05
06
07
08
09
10
11
12
13
14
15
16
17
18
19
20
21
22
23
24
25
26

$317

27

$317

28

$317

29
30
31
April 2023
S
M
T
W
T
F
S
01
02

$317

03

$317

04
05
06
07

$317

08

$317

09
10
11
12
13
14

$317

15

$334

16
17
18
19
20
21
22

$334

23

$334

24

$334

25

$334

26

$334

27

$334

28

$334

29

$334

30

$334
May 2023
S
M
T
W
T
F
S
01

$334

02

$334

03

$334

04

$334

05

$334

06

$334

07
08
09
10
11
12
13

$397

14

$397

15

$397

16

$397

17

$397

18

$397

19

$397

20

$397

21
22
23
24
25
26
27
28
29
30
31
June 2023

| S | M | T | W | T | F | S |
| --- | --- | --- | --- | --- | --- | --- |
| | | | | 01 | 02 | 03 |
| 04 | 05 | 06 | 07 | 08 | 09 | 10 |
| 11 | 12 | 13 | 14 | 15 | 16 | 17 |
| 18 | 19 | 20 | 21 | 22 | 23 | 24 |
| 25 | 26 | 27 | 28 | 29 | 30 | |
July 2023
S
M
T
W
T
F
S
01
02
03
04
05
06
07
08
09
10
11
12
13
14
15
16
17
18
19
20
21
22

$614

23

$614

24

$599

25

$599

26

$599

27

$614

28

$614

29

$599

30
31
August 2023
S
M
T
W
T
F
S
01
02
03
04
05

$565

06

$565

07

$565

08

$565

09

$565

10

$565

11

$565

12

$326

13

$326

14

$326

15

$326

16

$326

17

$326

18

$326

19

$326

20

$326

21

$326

22

$326

23

$326

24

$326

25

$326

26

$404

27

$404

28

$404

29

$404

30

$404

31

$404
September 2023
S
M
T
W
T
F
S
01

$404

02

$404

03

$404

04

$404

05

$404

06

$343

07

$343

08

$343

09

$343

10

$343

11

$343

12

$343

13

$343

14

$343

15

$343

16

$343

17

$343

18

$343

19

$343

20

$343

21

$343

22

$343

23

$343

24

$343

25

$343

26

$343

27

$343

28

$343

29

$343

30

$360
October 2023
S
M
T
W
T
F
S
01
02
03
04
05
06
07

$360

08

$360

09

$360

10

$360

11

$360

12

$360

13

$360

14

$292

15

$292

16

$292

17

$292

18

$292

19

$292

20

$292

21

$223

22

$223

23

$223

24

$223

25

$223

26

$223

27

$223

28

$223

29

$223

30

$223

31

$223
November 2023
S
M
T
W
T
F
S
01

$223

02

$223

03

$223

04

$223

05

$223

06

$223

07

$223

08

$223

09

$223

10

$223

11

$223

12

$223

13

$223

14

$223

15

$223

16

$223

17

$223

18

$284

19

$284

20

$284

21

$284

22

$284

23

$284

24

$284

25

$284

26

$284

27

$205

28

$205

29

$205

30

$205
December 2023
S
M
T
W
T
F
S
01

$205

02

$205

03

$205

04

$205

05

$205

06

$205

07

$205

08

$205

09

$205

10

$205

11

$205

12

$205

13

$205

14

$205

15

$205

16

$205

17

$205

18

$205

19

$205

20

$205

21

$205

22

$205

23

$205

24

$205

25

$205

26

$205

27

$205

28

$205

29

$205

30

$205

31

$205
January 2024
S
M
T
W
T
F
S
01

$205

02

$205

03

$225

04

$225

05

$225

06

$225

07

$225

08

$225

09

$225

10

$225

11

$225

12

$225

13

$225

14

$225

15

$225

16

$225

17

$225

18

$225

19

$225

20

$225

21

$225

22

$225

23

$225

24

$225

25

$225

26

$225

27

$225

28

$225

29

$225

30

$225

31

$225
February 2024
S
M
T
W
T
F
S
01

$225

02

$225

03

$225

04

$225

05

$225

06

$225

07

$225

08

$225

09

$225

10

$225

11

$225

12

$225

13

$225

14

$225

15

$225

16

$225

17

$225

18

$225

19

$225

20

$225

21

$225

22

$225

23

$225

24

$225

25

$267

26

$267

27

$267

28

$267

29

$267
March 2024
S
M
T
W
T
F
S
01

$267

02

$267

03

$267

04

$309

05

$309

06

$309

07

$309

08

$309

09

$309

10

$309

11

$339.9

12

$339.9

13

$339.9

14

$339.9

15

$339.9

16

$339.9

17

$339.9

18

$367.4

19

$367.4

20

$367.4

21

$367.4

22

$367.4

23

$367.4

24

$367.4

25

$

26

$

27

$

28

$

29

$

30

$

31

$