Sailmaker 903
Sailmakers Place has the best of everything for family gatherings. This 3100 SF Penthouse has endless views of the Intracoastal Waterway from two large north balconies and views of the Gulf of Mexico from the south balcony. The spacious interior has ample room for entertaining and relaxing. The unit is a two-story townhouse with separate entrances from the 9th and 10th floors. Upstairs has an open, airy floor plan with a large kitchen, dining, living area, master bedroom, private bath, separate garden tub and shower, double vanities, bar-entertainment room, and half bath. Downstairs has four additional bedrooms and full baths and laundry.  
Beds:  Upstairs Master-King, Downstairs Master-King, Downstairs Guest -Queen         
           Downstairs Guest-Queen, Downstairs Guest-Queen
           The upstairs nook also has a Twin over Full Bunk 
Fully Equipped Kitchen with a Standard Coffee Maker
In-Unit Washer and Dryer
Bar Area
Dining Area with extra seating at Kitchen Bar
Bed Linens- Bath Towels Provided
Wireless Internet
Non-Smoking
No Pets
Electronics include 42 in the TV in Living Room, 32 in the TV in the upstairs master, 32 in the TV in the downstairs master, and 24 in TVs in 3 downstairs guest bedrooms.


Group Accommodation Options
Book both Sailmaker 903 and Sailmaker 1001 to enjoy exclusive use of these side-by-side 10th-floor penthouses. When booked for the same dates of stay, these premier Sailmaker penthouses offer large group vacation rental accommodations for up to 20 people with ten bedrooms, nine full bathrooms, two half bathrooms, two well-appointed kitchens, and plenty of access to all the amenities. Enjoy this great space for your large group by booking both of these vacation properties today!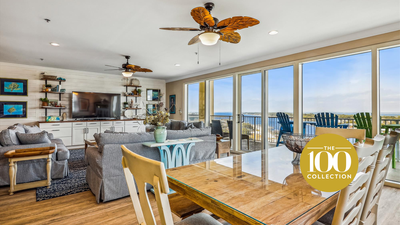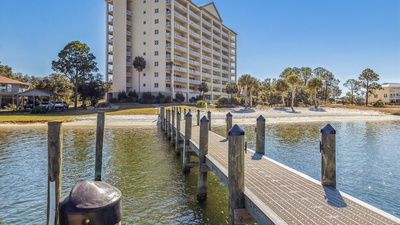 Amenities
We are extremely excited to invite our guests back to the beach after the disruptions caused by Hurricane Sally in September 2020. This vacation rental is ready for your enjoyment, however, there is still work that is being completed in and around the complex, which includes the common areas.


Located on Intracoastal Waterway approximately 1 mile from the beach
Outdoor Zero Entry Pool
Large River Front Balcony
Fitness Room
Grilling Area
Elevator
Smoke-Free Facility
Boat Docks
Three parking Permits
Facility
BBQ Area
Three Parking Passes
Gym/Fitness Room
Pool
Essentials
Cable
Dryer
Washer
Air Conditioning
Bed Linens
Living Room
Parking
Towels
Hair Dryer
Hangers
Heating
Hot Water
Iron & Ironing Board
Kitchen
Wifi
Kitchen
Dining Table
Standard Coffee Maker
Dishes & Silverware
Dishwasher
Microwave
Oven
Refrigerator
Toaster
Stove
Pots and Pans
Blender
Home Safety
Fire Extinguisher
Smoke Detector
Thank you for submitting your review. It will be processed shortly!
September 21, 2022 - Website
January 28, 2022 - Website
Excellent property and location. We are repeat Sailmaker 903 and I would highly recommend it. The unit is so family-friendly and spacious and well situated in Perdido Key in a park wonderful quiet location. Our blended large family settled right in and enjoyed the space and privacy of each room and there are plenty of things to do in the area from Orange Beach to Navarre Beach. We really went out and explored ourselves and relaxed inside and out of the unit. Large clean multi-level unit. Well equipped for cooking, hosting and entertaining. Easy to unload luggage and also easy to have grocery deliveries brought up to the unit.
We enjoyed a nice relaxing stay in the condo: everyone had plenty of space for everyone.
January 4, 2018 - Website
The Staff at Perdido Realty sets the tone of my dream vacation all.the.time. They are very friendly and act as GREAT hosts, their goal is to make sure our visit and stay exceeds our expectations from beginning to end. Val and Micheles dedication to customer satisfaction trickles down to the staff including those that works behind the scenes like the Maintenance, Housekeeping and A/P team. I know this because it shows on the smallest detail -extra towel, spare light bulb and flashlights in the unit goes a long way. I have never had to call for any hidden charges on my credit card unlike other all-inclusive resort we stayed at. Perdido Realty is the best on the coast!
November 29, 2017 - Website
Sailmakers 903 was the absolute best! Our family celebrated our Thanksgiving Holidays here and we had so much fun. Everyone had plenty of room. The kitchen/living/dining area made is so we could cook, visit, play games, and enjoy the view all at the same time. We hope to make this an annual tradition. The sunsets were breathtaking. We could not have asked for anything better. Thank you Perdido Realty Team! YOU ARE GREAT!! Keep up the good work!
March 2023

| S | M | T | W | T | F | S |
| --- | --- | --- | --- | --- | --- | --- |
| | | | 01 | 02 | 03 | 04 |
| 05 | 06 | 07 | 08 | 09 | 10 | 11 |
| 12 | 13 | 14 | 15 | 16 | 17 | 18 |
| 19 | 20 | 21 | 22 | 23 | 24 | 25 |
| 26 | 27 | 28 | 29 | 30 | 31 | |
April 2023
S
M
T
W
T
F
S
01
02
03
04
05
06
07
08

$265

09

$265

10

$265

11

$265

12

$265

13
14
15
16
17
18
19

$260

20

$260

21

$260

22

$260

23

$260

24
25
26
27
28
29

$260

30

$260
May 2023
S
M
T
W
T
F
S
01

$260

02

$260

03

$260

04

$260

05

$260

06

$270

07

$270

08

$270

09

$270

10

$270

11
12
13
14
15

$270

16

$270

17

$270

18

$270

19

$270

20
21
22
23
24
25
26

$270

27

$355

28

$355

29

$355

30

$355

31

$355
June 2023
S
M
T
W
T
F
S
01

$355

02

$355

03

$355

04
05
06
07
08
09
10
11
12
13
14
15
16
17
18
19
20
21
22
23
24
25
26
27
28
29
30
July 2023
S
M
T
W
T
F
S
01
02
03
04
05
06
07
08
09
10
11
12
13
14
15
16

$615

17

$615

18

$615

19

$615

20

$615

21

$615

22

$615

23

$615

24

$615

25

$615

26

$615

27

$615

28

$615

29

$615

30

$605

31

$605
August 2023
S
M
T
W
T
F
S
01

$605

02

$605

03

$605

04

$605

05

$605

06

$340

07
08
09
10
11
12
13

$496

14

$496

15

$496

16

$496

17

$496

18

$496

19

$496

20

$496

21

$496

22

$496

23

$496

24

$496

25

$496

26

$526

27

$526

28

$526

29

$526

30

$526

31

$526
September 2023
S
M
T
W
T
F
S
01

$526

02

$526

03

$526

04

$526

05

$526

06

$465

07

$465

08

$465

09

$465

10

$465

11

$465

12

$465

13

$465

14
15
16
17
18
19

$465

20

$465

21

$465

22

$465

23

$465

24

$465

25

$465

26

$465

27

$465

28

$465

29

$465

30

$488
October 2023
S
M
T
W
T
F
S
01

$488

02

$488

03

$488

04

$488

05

$488

06

$488

07

$488

08

$488

09

$488

10

$488

11

$488

12

$488

13

$488

14

$362

15

$362

16

$362

17

$362

18

$362

19

$362

20

$362

21

$236

22

$236

23

$236

24

$236

25

$236

26

$236

27

$236

28

$236

29

$236

30

$236

31

$236
November 2023
S
M
T
W
T
F
S
01

$236

02

$236

03

$236

04

$236

05

$236

06

$236

07

$236

08

$236

09

$236

10

$236

11

$236

12

$236

13

$236

14

$236

15

$236

16

$236

17

$236

18

$268

19

$268

20

$268

21

$268

22

$268

23

$268

24

$268

25

$268

26

$268

27

$236

28

$236

29

$236

30

$236
December 2023
S
M
T
W
T
F
S
01

$236

02

$236

03

$236

04

$236

05

$236

06

$236

07

$236

08

$236

09

$236

10

$236

11

$236

12

$236

13

$236

14

$236

15

$236

16

$236

17

$236

18

$236

19

$236

20

$236

21

$236

22

$236

23

$236

24

$236

25

$236

26

$236

27

$236

28

$236

29

$236

30

$236

31

$236
January 2024
S
M
T
W
T
F
S
01

$236

02

$236

03

$236

04

$236

05

$236

06

$236

07

$236

08

$236

09

$236

10

$236

11

$236

12

$236

13

$236

14

$236

15

$236

16

$236

17

$236

18

$236

19

$236

20

$236

21

$236

22

$236

23

$236

24

$236

25

$236

26

$236

27

$236

28

$236

29

$236

30

$236

31

$236
February 2024
S
M
T
W
T
F
S
01

$236

02

$236

03

$236

04

$236

05

$236

06

$236

07

$236

08

$236

09

$236

10

$236

11

$236

12

$236

13

$236

14

$236

15

$236

16

$236

17

$236

18

$236

19

$236

20

$236

21

$236

22

$236

23

$236

24

$236

25

$246

26

$246

27

$246

28

$246

29

$246
March 2024
S
M
T
W
T
F
S
01

$246

02

$246

03

$246

04

$255

05

$255

06

$255

07

$255

08

$255

09

$255

10

$255

11

$297

12

$297

13

$297

14

$297

15

$297

16

$297

17

$297

18

$308

19

$

20

$

21

$

22

$

23

$

24

$

25

$

26

$

27

$

28

$

29

$

30

$

31

$