Ocean Breeze West 105
Ocean Breeze West, the affordable condo directly on the gulf, is perfect for those who enjoy small complexes. The building has 47 units, a Gulf front swimming pool, and a large sun deck. This ground-floor condo has 980 SF of living area and Gulf Front balcony access from the Living Room and Master Bedroom. Beautiful decor with Ceramic tile throughout. Master and guest bedroom mattresses are new in 2017 (gel foam).


Beds: Master – King, Guest – Queen, Queen Sofa Sleeper
Fully-Equipped Kitchen with a Standard Coffee Maker
In-Unit Washer and Dryer
Bed Linens-Bath Towels Provided
Wireless Internet
Smoke-Free Property
No Pets
Electronics include a 32" TV in Living Room, a 32" TV in Master Bedroom, and a 20" TV in Guest Bedroom.
Group Accommodation Options
Book Ocean Breeze West 105, Ocean Breeze West 104 and Ocean Breeze West 103 to enjoy exclusive use of these neighboring condos. When booked for the same dates of stay, these premier Ocean Breeze West condos offer large group vacation rental accommodations for up to 18 people with six bedrooms, six bathrooms, three well-appointed kitchens, and plenty of access to all the amenities throughout the Ocean Breeze East and West buildings. Enjoy space AND privacy for your large group by booking both these vacation properties today!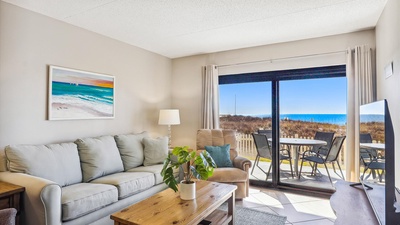 View Property: Ocean Breeze West 104
View Property: Ocean Breeze West 103
Amenities
Gulf Front
Outdoor Pool
Large Beach Front Balcony from Living Room and Master Bedroom
Elevator
One Parking Permit per Unit
Location
Beachfront
Oceanfront Balcony
Essentials
Cable
Dryer
Washer
Air Conditioning
Bed Linens
Living Room
Parking
Towels
Hair Dryer
Hangers
Heating
Hot Water
Iron & Ironing Board
Kitchen
Wifi
Pool
Community Pool
Seasonally Heated Pool
Kitchen
Dining Table
Standard Coffee Maker
Dishes & Silverware
Dishwasher
Microwave
Oven
Refrigerator
Toaster
Stove
Pots and Pans
Blender
Home Safety
Fire Extinguisher
Smoke Detector
Thank you for submitting your review. It will be processed shortly!
October 9, 2022 - Website
We were very pleased. Definitely tell others and we plan on coming back.
August 27, 2020 - Website
August 13, 2020 - Website
Relaxing & enjoyable
August 14, 2018 - Website
Have stayed here a few times. Loved every minute. Keep up the good work
Our apartment was nice, clean and stocked with amenities. We enjoyed the easy beach access. I was most pleasantly surprised with the spacious parking. Most facilities have very narrow spaces resulting in door dings and contortionist moves to exit your car. Not this property.
August 16, 2017 - Website
It is a very nice condo, a great location, quiet family beach!
Ocean Breeze West is our favorite condo. The condos have always been lovely and relaxing. Thanks!
We loved our stay! It was clean, quiet and a great location. The beach was not too crowded. We walked to Shrimp Basket several times and had some great food. The only negative thing is we had to leave af the end of the week!!! We will come back.
We felt at home within hours of being in the property. We were very impressed with the quality of furniture and the beautiful decour. We have been coming to the Perdido Key community for well over 25 yrs. I am sure we will return again in the near future.
August 16, 2016 - Website
March 2023

| S | M | T | W | T | F | S |
| --- | --- | --- | --- | --- | --- | --- |
| | | | 01 | 02 | 03 | 04 |
| 05 | 06 | 07 | 08 | 09 | 10 | 11 |
| 12 | 13 | 14 | 15 | 16 | 17 | 18 |
| 19 | 20 | 21 | 22 | 23 | 24 | 25 |
| 26 | 27 | 28 | 29 | 30 | 31 | |
April 2023
S
M
T
W
T
F
S
01
02
03
04
05
06

$185

07

$185

08

$185

09

$165

10

$165

11

$165

12

$165

13

$165

14

$185

15

$185

16

$165

17

$165

18

$165

19

$165

20

$165

21

$185

22

$185

23

$165

24

$165

25

$165

26

$165

27

$165

28
29
30
May 2023
S
M
T
W
T
F
S
01

$165

02

$165

03

$165

04

$165

05

$185

06

$185

07

$230

08

$230

09

$230

10

$230

11

$230

12

$230

13

$230

14

$230

15

$230

16

$230

17

$230

18

$230

19

$230

20

$230

21

$230

22

$230

23

$230

24

$230

25

$230

26

$230

27

$365

28
29
30
31
June 2023
S
M
T
W
T
F
S
01
02
03
04
05
06
07
08
09
10
11
12
13
14
15
16
17

$420

18

$420

19

$420

20

$420

21

$420

22

$420

23

$420

24

$420

25

$420

26

$420

27

$420

28

$420

29

$420

30

$420
July 2023
S
M
T
W
T
F
S
01

$435

02

$435

03

$435

04

$435

05

$435

06

$435

07

$435

08

$425

09

$425

10

$425

11

$425

12

$425

13

$425

14

$425

15

$420

16
17
18
19
20
21
22
23
24
25
26
27
28
29

$405

30

$405

31

$405
August 2023
S
M
T
W
T
F
S
01

$405

02

$405

03

$405

04

$405

05

$400

06

$400

07

$400

08

$400

09

$400

10

$400

11

$400

12

$218

13
14
15
16
17
18
19

$218

20

$218

21

$218

22

$218

23

$218

24

$218

25

$218

26

$255

27

$255

28

$255

29

$255

30

$255

31

$255
September 2023
S
M
T
W
T
F
S
01

$255

02

$255

03

$255

04

$255

05

$255

06

$214

07

$214

08

$214

09

$214

10

$214

11

$214

12

$214

13

$214

14

$214

15

$214

16

$214

17

$214

18

$214

19

$214

20

$214

21

$214

22

$214

23

$214

24

$214

25

$214

26

$214

27

$214

28

$214

29

$214

30

$225
October 2023
S
M
T
W
T
F
S
01

$225

02

$225

03

$225

04

$225

05

$225

06

$225

07

$225

08

$225

09

$225

10

$225

11

$225

12

$225

13

$225

14

$178

15

$178

16

$178

17

$178

18

$178

19

$178

20

$178

21

$132

22

$132

23

$132

24

$132

25

$132

26

$132

27

$132

28

$132

29

$132

30

$132

31

$132
November 2023
S
M
T
W
T
F
S
01

$132

02

$132

03

$132

04

$132

05

$132

06

$132

07

$132

08

$132

09

$132

10

$132

11

$132

12

$132

13

$132

14

$132

15

$132

16

$132

17

$132

18

$155

19

$155

20

$155

21

$155

22

$155

23

$155

24

$155

25

$155

26

$155

27

$132

28

$132

29

$132

30

$132
December 2023
S
M
T
W
T
F
S
01

$132

02

$132

03

$132

04

$132

05

$132

06

$132

07

$132

08

$132

09

$132

10

$132

11

$132

12

$132

13

$132

14

$132

15

$132

16

$132

17

$132

18

$132

19

$132

20

$132

21

$132

22

$132

23

$132

24

$132

25

$132

26

$132

27

$132

28

$132

29

$132

30

$132

31

$132
January 2024
S
M
T
W
T
F
S
01

$132

02

$132

03

$132

04

$132

05

$132

06

$132

07

$132

08

$132

09

$132

10

$132

11

$132

12

$132

13

$132

14

$132

15

$132

16

$132

17

$132

18

$132

19

$132

20

$132

21

$132

22

$132

23

$132

24

$132

25

$132

26

$132

27

$132

28

$132

29

$132

30

$132

31

$132
February 2024
S
M
T
W
T
F
S
01

$132

02

$132

03

$132

04

$132

05

$132

06

$132

07

$132

08

$132

09

$132

10

$132

11

$132

12

$132

13

$132

14

$132

15

$132

16

$132

17

$132

18

$132

19

$132

20

$132

21

$132

22

$132

23

$132

24

$132

25

$159

26

$159

27

$159

28

$159

29

$159
March 2024
S
M
T
W
T
F
S
01

$159

02

$159

03

$159

04

$185

05

$185

06

$185

07

$185

08

$185

09

$185

10

$185

11

$203.5

12

$203.5

13

$203.5

14

$203.5

15

$203.5

16

$203.5

17

$203.5

18

$222.2

19

$222.2

20

$222.2

21

$222.2

22

$222.2

23

$222.2

24

$222.2

25

$

26

$

27

$

28

$

29

$

30

$

31

$