Hip Nautic South
*INFORMATION* The parking lot across from the beach club is CLOSED. You may walk, shuttle, or drop off curbside as needed. There is limited bike rack space at the Beach Club; bring your bike lock; park your bike at your own risk. (Bikes are not provided in the unit)

Enjoy your stay in Perdido Key's first master-planned resort community at Lost Key Golf and Beach Club, which is nestled between Lost Key Golf Course and the Gulf of Mexico. The 413-acre gated community at Lost Key is surrounded by more than 300 acres of natural preserves and includes an 18-hole Audubon Signature Golf Course. Bring your bikes and jogging shoes to appreciate 5 miles of biking and jogging trails that meander through the Resort. From the moment you enter Lost Key's gated community, you'll feel the serenity and beauty of nature. Every effort has been made to maintain the existing topography and natural landscape. The Unique elevation of Each brand-new, luxurious townhome conforms to the environment. Buildings have been arranged to maximize natural water views, golf course views, and native wildlife. Your spacious villa features open living areas, a center-island kitchen, and a great room perfect for entertaining. Natural light streams throughout.
Beds: Main - King, Guest - King
Modern, Fully-equipped Kitchen with Quartz Countertops and Center Island
Stainless Appliances, Standard Coffee Maker
In-Unit Washer and Dryer
Main Bath: Walk-in Shower and double vanities
Guest Bath: Tub-Shower Combination, Single Vanity
Half Bath on Living Level
Wood-look Ceramic Tile throughout the Living, Dining, Kitchen, and Foyer
Carpeted Bedrooms
Electronics Include a 65" TV in Living Area, a 55" TV in Main Bedroom, and a 55"TV in Guest Bedroom
Screened Lanai
Gas Grill
Group Accommodation Options
Book Hip Nautic South, Afterdune Delight, and The Happy Place to enjoy exclusive use of these nearby villas. When booked for the same dates of stay, these premier Lost Key Villas offer large group vacation rental accommodations for up to 18 people with seven bedrooms, three well-appointed kitchens, six full bathrooms, three half bathrooms, and plenty of access to all the amenities throughout Lost Key Golf and Beach Club. Enjoy a fabulous vacation with your large group by booking these properties today!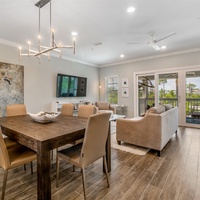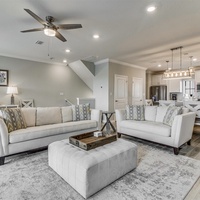 View Property: Afterdune Delight
View Property: The Happy Place
Amenities
Golf Course and On-Site Restaurant/Bar/Pro Shop
Private Beach Club Offers Restaurant, Bar and Pool - Private Beach Club Offers a Top Deck Pool overlooking the Gulf of Mexico, Bathrooms, Private Beach Access, Restaurant, and Bar - Restaurant offers a limited menu and Bar and is Opened Wednesday- Monday 11AM- 7PM along with the Lost Key Shuttle (Amenity Conditional on Lost Key Resorts ability to staff the Club House and Shuttle - Not Guaranteed Amenity)
SEASONAL - Complimentary Beach Chairs and Umbrellas at the Beach Club- First-Come, First-Serve
Exclusive Zero Entry Olympic-Size Swimming Pool and Hot Tub inside Lost Key
State-of-the-Art Workout Facility
Tennis Courts
Views of Nature Preserve from the Lanai
1-Car Garage with Keyless Entry
Gated Community
Wireless Internet
Non-Smoking
No Pets
Essentials
Dryer
Garage
Private Entrance
Washer
Air Conditioning
Bed Linens
Living Room
Parking
Towels
Hair Dryer
Hangers
Heating
Hot Water
Iron & Ironing Board
Kitchen
Wifi
Facility
Gym/Fitness Room
Pool
Golf
Tennis Court
Gated Community
Two Parking Passes
Lost Key Beach Club
Screened Lanai
Pool
Hot Tub
Private Beach Front Pool at Beach Club
Olympic Sized Zero Entry Pool With Fountain
Kitchen
Kitchen Island
Dining Table
Standard Coffee Maker
Dishes & Silverware
Dishwasher
Microwave
Oven
Refrigerator
Toaster
Stove
Pots and Pans
Blender
Home Safety
Fire Extinguisher
Smoke Detector
Thank you for submitting your review. It will be processed shortly!
September 30, 2021 - Website
We had an amazing vacation and the biggest part of it was your property. Hip Nautic South was clean and welcoming and the pool and beach access made the trip that much better. We really enjoyed your quiet location and Perdido Key relative to the more Spring Break atmosphere down in Orange Beach and Gulf Shores. That said, those spots were accessible when we needed them, which was great. I will absolutely be back and will most definitely tell all of my friends and family how much we loved our stay with you. I am tearing up thinking about all the fun we had!
March 2023

| S | M | T | W | T | F | S |
| --- | --- | --- | --- | --- | --- | --- |
| | | | 01 | 02 | 03 | 04 |
| 05 | 06 | 07 | 08 | 09 | 10 | 11 |
| 12 | 13 | 14 | 15 | 16 | 17 | 18 |
| 19 | 20 | 21 | 22 | 23 | 24 | 25 |
| 26 | 27 | 28 | 29 | 30 | 31 | |
April 2023

| S | M | T | W | T | F | S |
| --- | --- | --- | --- | --- | --- | --- |
| | | | | | | 01 |
| 02 | 03 | 04 | 05 | 06 | 07 | 08 |
| 09 | 10 | 11 | 12 | 13 | 14 | 15 |
| 16 | 17 | 18 | 19 | 20 | 21 | 22 |
| 23 | 24 | 25 | 26 | 27 | 28 | 29 |
| 30 | | | | | | |
May 2023

| S | M | T | W | T | F | S |
| --- | --- | --- | --- | --- | --- | --- |
| | 01 | 02 | 03 | 04 | 05 | 06 |
| 07 | 08 | 09 | 10 | 11 | 12 | 13 |
| 14 | 15 | 16 | 17 | 18 | 19 | 20 |
| 21 | 22 | 23 | 24 | 25 | 26 | 27 |
| 28 | 29 | 30 | 31 | | | |
June 2023

| S | M | T | W | T | F | S |
| --- | --- | --- | --- | --- | --- | --- |
| | | | | 01 | 02 | 03 |
| 04 | 05 | 06 | 07 | 08 | 09 | 10 |
| 11 | 12 | 13 | 14 | 15 | 16 | 17 |
| 18 | 19 | 20 | 21 | 22 | 23 | 24 |
| 25 | 26 | 27 | 28 | 29 | 30 | |
July 2023

| S | M | T | W | T | F | S |
| --- | --- | --- | --- | --- | --- | --- |
| | | | | | | 01 |
| 02 | 03 | 04 | 05 | 06 | 07 | 08 |
| 09 | 10 | 11 | 12 | 13 | 14 | 15 |
| 16 | 17 | 18 | 19 | 20 | 21 | 22 |
| 23 | 24 | 25 | 26 | 27 | 28 | 29 |
| 30 | 31 | | | | | |
August 2023

| S | M | T | W | T | F | S |
| --- | --- | --- | --- | --- | --- | --- |
| | | 01 | 02 | 03 | 04 | 05 |
| 06 | 07 | 08 | 09 | 10 | 11 | 12 |
| 13 | 14 | 15 | 16 | 17 | 18 | 19 |
| 20 | 21 | 22 | 23 | 24 | 25 | 26 |
| 27 | 28 | 29 | 30 | 31 | | |
September 2023

| S | M | T | W | T | F | S |
| --- | --- | --- | --- | --- | --- | --- |
| | | | | | 01 | 02 |
| 03 | 04 | 05 | 06 | 07 | 08 | 09 |
| 10 | 11 | 12 | 13 | 14 | 15 | 16 |
| 17 | 18 | 19 | 20 | 21 | 22 | 23 |
| 24 | 25 | 26 | 27 | 28 | 29 | 30 |
October 2023

| S | M | T | W | T | F | S |
| --- | --- | --- | --- | --- | --- | --- |
| 01 | 02 | 03 | 04 | 05 | 06 | 07 |
| 08 | 09 | 10 | 11 | 12 | 13 | 14 |
| 15 | 16 | 17 | 18 | 19 | 20 | 21 |
| 22 | 23 | 24 | 25 | 26 | 27 | 28 |
| 29 | 30 | 31 | | | | |
November 2023

| S | M | T | W | T | F | S |
| --- | --- | --- | --- | --- | --- | --- |
| | | | 01 | 02 | 03 | 04 |
| 05 | 06 | 07 | 08 | 09 | 10 | 11 |
| 12 | 13 | 14 | 15 | 16 | 17 | 18 |
| 19 | 20 | 21 | 22 | 23 | 24 | 25 |
| 26 | 27 | 28 | 29 | 30 | | |
December 2023
S
M
T
W
T
F
S
01
02
03
04
05
06
07
08
09
10
11
12
13
14
15
16
17
18
19
20
21
22
23
24
25
26
27
28
29
30
31

$
January 2024
S
M
T
W
T
F
S
01

$

02

$

03

$

04

$

05

$

06

$

07

$

08

$

09

$

10

$

11

$

12

$

13

$

14

$

15

$

16

$

17

$

18

$

19

$

20

$

21

$

22

$

23

$

24

$

25

$

26

$

27

$

28

$

29

$

30

$

31

$
February 2024
S
M
T
W
T
F
S
01

$

02

$

03

$

04

$

05

$

06

$

07

$

08

$

09

$

10

$

11

$

12

$

13

$

14

$

15

$

16

$

17

$

18

$

19

$

20

$

21

$

22

$

23

$

24

$

25

$

26

$

27

$

28

$

29

$
March 2024
S
M
T
W
T
F
S
01

$

02

$

03

$

04

$

05

$

06

$

07

$

08

$

09

$

10

$

11

$

12

$

13

$

14

$

15

$

16

$

17

$

18

$

19

$

20

$

21

$

22

$

23

$

24

$

25

$

26

$

27

$

28

$

29

$

30

$

31

$